DISCUSSION…INCIPIENT STORM DEVELOPMENT IS UNDERWAY ALONG COLD FRONT OVER THE DALLAS-FT. WORTH AREA WITHIN A STRONGLY UNSTABLE AIR MASS WITH MLCAPE VALUES OF 3000 J/KG. KINEMATIC ENVIRONMENT INVOF COLD FRONT IS CHARACTERIZED BY A WEAK LOW-LEVEL WIND FIELD BUT 40-50 KT EFFECTIVE BULK SHEAR. HOWEVER…AS STORMS MATURE…THEY WILL ENCOUNTER STRONGER LOW-LEVEL SHEAR AND HIGHER BOUNDARY LAYER MOISTURE CONTENT WITH EWD EXTENT. AS SUCH…INITIAL HAZARDS WILL BE LARGE HAIL AND LOCALLY DAMAGING WINDS WITH AN INCREASED TORNADO THREAT AFTER 01/00Z.
The first cell already initiated right over DFW metro area and soon got severe warned. Its approaching downtown Dallas.
Stay tuned!
A marginal setup today across the southern Plains into the Ozarks. SPC has issued a narrow SLGT risk for severe storms from N TX across CNTRL AR into S IL concerning the development of severe storms along the SE-wards moving cold front. Very rapid and impressive moisture return is on going across E TX and LA today, rising from low 40s to low 70s in last 24 hours! Very high to extreme instability (3500 J/kg SBCAPE) but rather limited shear should support supercells. However, strong cap will be holding convection into very late afternoon. Lately, a mesoscale discussion was issued for NE TX, a tornado watch is expected soon.
MESOSCALE DISCUSSION 0670
NWS STORM PREDICTION CENTER NORMAN OK
0458 PM CDT SAT APR 30 2011

AREAS AFFECTED…N-CNTRL/NERN TX…FAR SERN OK

CONCERNING…SEVERE POTENTIAL…WATCH LIKELY

VALID 302158Z – 302330Z

AT LEAST ISOLATED TSTM DEVELOPMENT SHOULD COMMENCE BY 23-00Z ALONG COLD FRONT STRETCHING ACROSS N-CNTRL TX. THE COMBINATION OF STRONG INSTABILITY AND SHEAR WILL SUPPORT SUPERCELLS WITH PRIMARY INITIAL THREATS OF LARGE HAIL AND LOCALLY DAMAGING WINDS. THE PROBABILITY OF A WW ISSUANCE BY 00Z IS 60 PERCENT.

21Z SURFACE ANALYSIS PLACED A SLOW-MOVING COLD FRONT FROM NEAR FSM TO DFW TO 50 S BWD. RECENT VISIBLE SATELLITE IMAGERY INDICATES CU FIELD BECOMING INCREASINGLY AGITATED ALONG THE FRONT ACROSS N-CNTRL/CNTRL TX AS SURFACE TEMPERATURES HAVE NOW REACHED THE UPPER 90S ACROSS THE EDWARDS PLATEAU. DESPITE RELATIVELY NEUTRAL UPPER-LEVEL FORCING…MODEST CONVERGENCE ALONG THE FRONT IN CONJUNCTION WITH A WEAKLY CAPPED ENVIRONMENT SHOULD BE SUFFICIENT FOR ISOLATED TSTM DEVELOPMENT NEAR 23Z…WHICH IS SUPPORTED BY 19Z HRRR GUIDANCE.

GIVEN THE PRESENCE OF MLCAPE FROM 2500 TO 3500 J/KG COUPLED WITH EFFECTIVE SHEAR OF 40 TO 50 KT…SUPERCELL STRUCTURES SHOULD EVOLVE WITH PRIMARY INITIAL THREAT OF LARGE HAIL. WITH STRONGER LOW-LEVEL FLOW REMAINING CONFINED TO FAR ERN TX INTO THE LOWER MS VALLEY…POTENTIAL FOR TORNADOES SHOULD REMAIN LOW INITIALLY. HOWEVER…A W/SWLY STORM MOTION WOULD EVENTUALLY RESULT IN CELL PROPAGATION INTO THE STRONGER LOW-LEVEL FLOW/RICHER MOISTURE WITH AN ATTENDANT INCREASE IN TORNADIC POTENTIAL.

..GRAMS.. 04/30/2011
Latest VIS imagery shows a developing line of towering cumulus clouds along the frontal convergence around DFW where intiation is expected within one hour.
Stay tuned!
Sad news are coming from AL this morning, as historic deadly tornado outbreak caused numerous fatalities. A high number of large towns and cities were hit directly with violent wedge tornadoes. Currently, a SPC storm reports are showing more than 600 of all reported where almost 1/3 of them are tornado reports!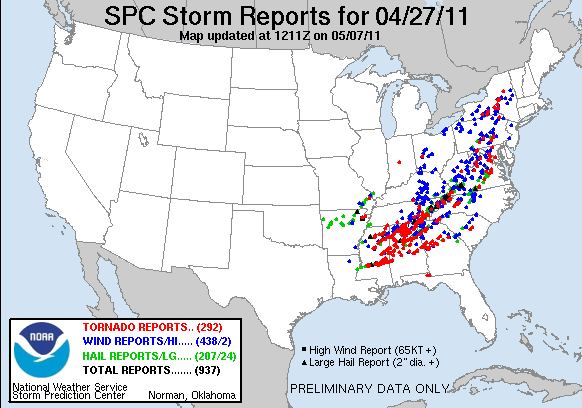 Read detailed storm reports here: SPC storm reports for April 27th, 2011.
The cities of Tuscaloosa and AL state's capital city Birmingham were directly hit by the same supercell which formed in SW MS and was trailing NE-wards across whole AL into NW GA. Trully a remarkable storm which cycled several times while moving along its track, spawned multiple monster wedge tornadoes. Major damage has been reported especially from the city of Tuscaloosa where some unconfirmed damage survey are already reporting possibility of EF5 damage in the downtown. Official damage surveys are scheduled in the following days, so we will cover that in the next updates.
Sadly, a high number of fatalities have also been reported from all those killer tornadoes and the death toll is still rising. The confirmed deaths are currently screaming well above 50 while CNN is lately reporting 150+ deaths with 100+ only across the AL state! Our thoughts are with all the people affected, unfortunatelly a historic tragedy for AL once again!
Here are a couple of insanely impressive videos of yesterday's tornadoes…
Violent rapidly moving tornado in the north side of Philadelphia, MS…
Copyright © Andy Gabrielson (http://www.youtube.com/watch?v=XInx2RsPIz8)
Here is another video of the monster wedge near Philadelphia, MS… there are also additional wedge tornadoes later from Alabama…
Copyright © TVN team (http://www.youtube.com/watch?v=vhKjv9GuARQ)
Several videos from a monster tornado that directly hit downtown Tuscaloosa, AL…
Copyright © John Brown (http://www.youtube.com/watch?v=NjVW0Du2ZIo)
Copyright © local citizen (http://www.youtube.com/watch?v=q3mLGk1QxS0)
Copyright © CBS42 Birmingham, AL (http://www.youtube.com/watch?v=yw6H6uYGwVw)
Copyright © local citizen (http://www.youtube.com/watch?v=Zyqna-fRajk)
Copyright © Fox Affiliate (http://www.youtube.com/watch?v=J9Oszy_dGJY)
Copyright © local citizen of Tuscaloosa (http://www.youtube.com/watch?v=N3SXsU5PURc)
Copyright © News broadcast Tuscaloosa (http://www.youtube.com/watch?v=5ohIVzIZLuQ)
Large wedge tornado near Athens, AL…
Copyright © Eric Perozo (http://www.youtube.com/watch?v=vcst_GGOqfM)
A breathtaking monster wedge that riped trough the city of Birmingham, AL…
Copyright © local broadcast news media (http://www.youtube.com/watch?v=DWSGJ-hG4RM)
Copyright © local citizen of Birmingham (http://www.youtube.com/watch?v=kxWRS-aFBW8
Large wedge tornado ripping through the valley near Empire, AL…
Copyright © local citizen Roger (http://www.youtube.com/watch?v=zEr2lCnQcow)
At the end, let me share my deepest respect to all the local NWS office meteorologists for issueing warnings, Storm Prediction Center forecasters for incredible job predicting this historic setup, storm spotters for reporting severe weather, great media coverage and many others that were doing all they can yesterday to warn people from those killers tornadoes! We are facing a lot of fatalities from this tornado outbreak, but there would have been hundreds or even thousands of casaulties without such a warning system that America has!
Hats off and ALL RESPECT to them!!!
Thankfully, the powerful trough has now shifted east and the activity is exiting east coast. A few calm days are now expected across the States before another trough arrives from the NW. Stay tuned for future updates!